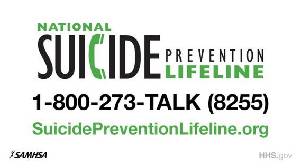 SILENCE = CONSENT
We are very much aware that suicide is a difficult subject to discuss. However, if science has taught us anything about this dark side of the human psyche, it is that silence equals consent. To not talk about suicide is to allow it to pass from the world of the impossible to our world, where we live. This is not acceptable, and we feel that we need to make this discussion happen first.
WE UNDERSTAND DEPRESSION
Moderation Management deals with a difficult population. Many of our participants have faced tremendous challenges in their life, and this includes the scourge of depression- that black hole of spirit which brings many people to alcohol, and beyond. Depression is something which is hard to understand from the outside, but from the inside is entirely clear and consistent-
"I am worthless, the world is better off without me; everything is a failure and will remain a failure"
This is not reasonable or rational thought- Suicide is devastating to families and associates; it rips apart lives and leaves tragic voids where once laughter and companionship stood. But this is the clear siren call of depression. Depression is an illness- and, like many maladies, there are medical treatments available that can help ease depression and bring light back to shrouded lives. These treatments are not even expensive, either for prescriptions or medical treatment-
The only reason to not seek mental health care is that not seeking help is a symptom of the disease.
NOT FOREVER
Depression is not forever- In most cases, it is a temporary condition which will pass. People may or may not have bouts of depression during their lives. These episodes may be cured or made worse by different medications and substances, so professional care is strongly recommended.
DEPRESSION CAN PASS.
It does not have to be forever. Tomorrow may very well become the brighter day we all want to see, with some self-care and the assistance of a mental health professional.
INTERVENTION?
The best intervention starts by expressing sincere care and concern for an individual's well-being. If nobody says anything, the impossible becomes possible. Silence = Consent. Speak up, and save a life. A life-changing conversation can start as simply as using one of these phrases:
*I believe in you.
*I'm thinking of you.
*I'm proud of you.
*I love you.
*I knew you could do it.
*I hear you.
*I'm listening.
*Tell me more.
*Are you okay?
*How do you feel about it?
*Can I sit by you?
*Do you need help?
*Hi.
HELP IS AVAILABLE
If you or a loved one is suffering from depression, please seek help. You can find relief from depression either from the resources below or at any health center - Depression is no longer a reason to be ashamed; it is an illness that may or may not pass on its own but can respond to several basic therapies.
National Suicide Prevention Lifeline at 1-800-273-8255 (TALK)
https://suicidepreventionlifeline.org/
Speaking Of Suicide
https://speakingofsuicide.com/resources
has a comprehensive list of resources for those having suicidal thoughts, their friends and family, and for those who have survived a suicide attempt or for those who have lost someone to suicide.
American Foundation for Suicide Prevention
https://afsp.org/about-suicide/
Depression and Bipolar Support Alliance
www.DBSAlliance.org
Mental Health America
http://www.mentalhealthamerica.net/conditions/depression
Society for the Prevention of Teen Suicide
http://www.sptsusa.org
AND
https://www.13reasonswhytoolkit.org/
There are many other fine organizations which exist to help with depression and suicide; this is just a partial list.
Our primary suggestion is to seek help to stop depression before it progresses.