Help yourself & Moderation Management.
We receive net profits of the proceeds from all
Moderate Drinking
subscriptions, and generous donations from
Checkup & Choices
. Both of these groups are strong sponsors of Moderation Management, and are also professional supporters of Moderation-based alcohol recovery programs.
These software programs and interactive web sites have been chosen because there is scientific evidence of their effectiveness in helping problem drinkers.
We'll add new programs and sites as they, and their evidence of effectiveness, become available.
---

New Professional Service: Checkup & Choices
Introducing a new website that supports Moderation as a goal- Checkupandchoices.com. Developed by Dr. Reid Hester, long time Moderation Management supporter and member of our Board of Advisors, Checkup & Choices combines cutting edge research with modern web technology and a mobile-aware responsive design to help people achieve changes in their use of alcohol.
From the website checkupandchoices.com:
Check on your drinking or drug use, and get the tools to help you change if you choose to.
The Tools: Our powerful, proven and private tools will help you better understand and navigate your personal journey.
Get a Checkup: The Checkup helps you take a closer look at your drinking, get objective feedback, and consider what-if anything-you choose to change.
Cut Back: Most, but not all, heavy drinkers can successfully cut back. If this is your goal, these tools will improve your chances of success.
Stop Now: Want to quit? These tools will help you stop drinking or using drugs and reduce your chances of relapse.
The Science: Pioneered by acclaimed clinical researcher, Reid K. Hester, Ph.D., our evidence-based tools are the culmination of years of rigorous research, millions of dollars of National Institutes of Health grants, multiple randomized clinical trials, and peer-reviewed publications.
1) $4M+ Research grant funding received through the National Institutes of Health and invested in developing and testing our tools.
2) Randomized clinical trials with hundreds of participants over multiple years.
3) Our tools are listed on the Substance Abuse and Mental Health Services Administration (SAMHSA) official registry of verified, evidence-based interventions.

---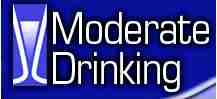 Moderate Drinking


Moderate Drinking is a subscription-based training program. All net profits will be donated to Moderation Management.
Users can unsubscribe at any time.

Dr. Reid Hester, Director of the Research Division of Behavior Therapy Associates (www.behaviortherapy.com) developed Moderate Drinking with funding from NIAAA. As part of this grant he conducted a randomized clinical trial of the effectiveness of the program (in combination with participation in Moderation Management).

The study demonstrated that the program is effective in helping heavy drinkers change their drinking.
Copies of two of the papers reporting the results are available:
A web application for moderation training: Initial results of a randomized clinical trial.
ModerateDrinking.com and Moderation Management: Outcomes of a randomized clinical trial with non-dependent problem drinkers
A video demo of the program is available at www.behaviortherapy.com

The elements of the program include:

Building motivation and self-confidence
Setting drink goals/limits
"Doing a 30"
Self-monitoring drinking (with personalized feedback relative to each user's self-determined goals)
Controling your drinking rate
Personal drinking rules
Self-monitoring urges to drink (w/ personalized feedback)
Identifying and managing triggers
Developing alternatives to drinking
General problem solving
Dealing with lapses and/or relapses
Considering abstinence as an option
Self-monitoring your mood (w/feedback relative to baseline)
A controlled clinical trial found this program to be as effective as face-to-face treatment with a goal of moderation.

Dr. Hester has generously donated ALL net profits from
Moderate Drinking
to Moderation Management!
To start your subscription, go to the Moderate Drinking website.
---


by Dr. Reid K. Hester, Ph.D.
Have you wondered about whether you should change your drinking? Get anonymous, objective and confidential help at the Drinker's Check-up.

This scientifically based program helps you take a detailed look at your drinking. It then gives you objective feedback about your drinking, comparing your drinking, consequences, risk factors, etc. to others. It finishes up with a section that helps you resolve your ambivalence about whether to change, set goals for changing, a plan for changing, and offers resources for helping you meet your goals. It takes 60-90 minutes (but you can do it in multiple sessions).

The Drinker's Check-up will not label you nor tell you what to do. What you decide to do about your drinking, if anything, is entirely up to you. If you do decide to change though, the Check-up can help you decide how to change. It also will recommend resources to help you be successful in changing your drinking. Moderation Management is one such resource.

Click here to go there.
---


The Electronic Check-up to Go
(e-CHUG) for College Students


The CHUG is designed to motivate students to reduce their consumption using personalized information about their own drinking and risk factors. The feedback, whether used in conjunction with counseling, or as a stand-alone intervention, includes information which have been shown to be particularly motivating to college drinkers:
| | |
| --- | --- |
| Quantity and Frequency of Drinking, Caloric Intake | Tolerance Level |
| Amount Consumed and Peak BAC | Negative Consequences of Alcohol Use |
| Norm Comparisons | Genetic Risk Score |
| Amount and Percent of Income Spent on Alcohol | Explanation, advice, local referral information |
To use the e-CHUG, click on the "Try it out" tab on the banner at the top of the page.
---