---
(See our page of
Membership Reviews
)
Moderation Management is pleased and grateful to join in the Amazon Smile non-profit support program. The link below features the option to register Moderation Management as your Amazon Smile charity: Smile!) for an item flagged as "Eligible for Amazon Smile donation" will provide Moderation Management with a small but important contribution.
Your Amazon Prime membership will be honored, with the same shipping policies. Prices are the same. Product choices are the same. (Although not all products are "Smile Eligible.") Amazon makes the donation, and assumes all administrative costs.
The only difference is that Moderation Management can be supported by your smile.amazon.com purchase. Amazon guarantees you'll get the SAME top quality service you have come to expect.
Each of the books listed here includes a smile.amazon.com link; if your book purchase is "Eligible for Amazon Smile" you will be helping Moderation Management with a small but important gift from Amazon.com.
---

Responsible Drinking, A Moderation Management approach for problem drinkers,
by Frederick Rotgers Psy.D., Marc F. Kern Ph.D., & Rudy Hoeltzel

If you have reason to believe that you are a problem drinker - one of the millions of people who drink more than is safe - This revolutionary workbook by the leading voices of Moderation Management is for you. Research based techniques help you to discover the extent of you problem and learn key strategies for controlling your behavior, identifying your triggers and special needs, and developing a healthier more moderate lifestyle.
Order this book here!
(2002) New Harbinger Publications Inc.
---

Moderate Drinking Stories and Lessons Learned: Tales From The MM Community And Beyond
By Moderation Management, Edited by Mary Reid

This book is for anyone who is concerned about their drinking, whether they drink too many when they drink or drink too often! If you've been struggling to reduce your drinking on your own without success, you will be amazed at the difference having a support community made in helping the authors of the stories in this book achieve their moderate drinking goals.
Order this book here!

---

The Dryuary 2019 Collection
by Moderation Management, with contributors

Dryuary (dryuary.org) is an annual program to encourage participants to stop drinking alcohol for the month of January, sponsored by Moderation Management. This book consists of inspirational posts from many contributors, compiled for the first time in this Kindle publication.
The goal of Dryuary is to offer a supportive environment for taking a month-long break from alcohol. It's an invitation to give your body a break for 1/12th of the year from a diet that includes alcohol. Dryuary is not therapy; it is simply an opportunity to reset your relationship with drinking by taking a break at the beginning of the year.
Are you considering taking a month off from drinking? Are you excited? Scared? A little or lot of both? The Dryuary 2019 Collection contains advice from well-known authors and professionals in the Alcohol Use Disorder (AUD) field of treatment, who have helped thousands of people change their relationship with alcohol. Contributors include: Annie Grace; Rachel Hart; Dr. Amy Johnson; Jackie Elliot; Dr. Adi Jaffe; Clare Pooley; Jason Garner; Lotta Dann and past Dryuary participants who want to share their stories. The Dryuary 2019 Collection includes theories and advice from a variety of diverse sources in the hopes that the reader will find not one path but the right path for them. Whether you are taking a short break from alcohol or considering a life-long change, the Dryuary 2019 Collection will provide encouragement and inspiration every step along the way.
Order this book here!

---

TAKE CONTROL NOW!
by Marc Frederick Kern, Ph.D., with Lance Lenon

(1994) Life Management Skills Publishing
Six easy-to-use chapters, filled with exercises, charts, and worksheets, will motivate you to take control of, and conquer your unhealthy habits (both large and small). Drawing from many years of experience in his own clinical practice, Dr. Kern has developed a program that can help you replace old, unwanted behaviors with a new, satisfying, and rewarding lifestyle.
Order this book here!
OR call 1-888-22-HABIT

---

Over the Influence: The Harm Reduction Guide for Managing Drugs and Alcohol
by Patt Denning, Jeannie Little, Adina Glickman New York : Guilford Press, 2004.



This book is the layman's guide to the principles of Harm Reduction
and a wonderful companion book to "Responsible Drinking".
For many who are new to MM, the first step is to formulate a program of Harm Reduction, before attempting an abs period or attempting 'By The Book' moderation. This book can be an aid in creating such a plan.
The authors draw on 40 years of experience to create an approach which is both compassionate and empowering.

This book is available from Amazon.com.

Additional information about this book is available at The Harm Reduction Therapy Center:
http://www.harmreductiontherapy.org/

---

Sex, Drugs, Gambling, Chocolate: A Workbook for Overcoming Addictions.
by A. Thomas Horvath California : Impact Publishers, 2003.



There is an alternative to 12-step! You can reduce almost any type of addictive behavior -- from drinking to sex, eating, and the Internet -- with this practical and effective workbook. Treats addictive behaviors in general, not one at a time -- because if you're prone to addictions, you've probably got more than one.

Addictive behavior can result from the use of almost any substance, or involvement in almost any activity. The harm that results from the addictive behavior, and the individual's difficulty in controlling it, is what matters. Supported by scientific research, Dr. Horvath approaches addiction as a bad habit, not a disease. He emphasizes taking responsibility, without requiring an allegiance to a "higher power," and teaches general principles of addictive behavior change, so readers can apply them as often as they need.

Horvath teaches the consequences (and even possible benefits) of addictive behavior, alternative coping methods, choice, understanding and dealing with urges, building a new lifestyle, preventing relapse. Includes dozens of exercises, self-study questions, guidelines for individual change plans.

Softcover, 240 pages, 2003, US
ISBN-13: 978-1-886230-55-2



---



"Many professionals in the alcohol field now accept that moderation is a reasonable and responsible goal for some (though certainly not all) people seeking to control their use of alcohol and to avoid developing more serious drinking problems. We have found that early stage problem drinkers can be quite successful in learning moderation. In six separate treatment outcome studies conducted over the past eight years we have found consistent success rates of 60 to 70 percent for such early problem drinkers using the methods described in this book." (from preface to revised edition). "Problem drinkers need more than advice to cut down; they need a plan for dealing with this attractive and highly available drug. This book provides that plan....It carries them, step by step, through a program that careful research shows to be effective." -Thomas J. Crowley, M.D., Colorado School of Medicine.

From the author William R. Miller:


There is a new edition of Controlling Your Drinking, which I believe was the original moderation-oriented self-help book (published in 1976). It is: Miller, W. R., & Munoz, R. F. (2013).?? Controlling your drinking (2nd ed.).? New York: Guilford. It includes research-based guidelines to help people know whether they are more likely to succeed with moderation or abstinence.

In the original trial, those given the book after behavioral counseling continued to reduce their drinking, whereas those not receiving the book at the end of treatment (random assignment) simply maintained the gains they had made: Miller, W. R. (1978).? Behavioral treatment of problem drinkers: A comparative outcome study of three controlled drinking therapies.? Journal of Consulting and Clinical Psychology, 46, 74-86.

In four subsequent randomized clinical trials the outcomes for people using this book on their own (after one visit) were the same (on average) as for those working with a counselor using the same methods.

Miller, W. R., Gribskov, C. J., & Mortell, R. L. (1981).? Effectiveness of a self-control manual for problem drinkers with and without therapist contact.? International Journal of the Addictions, 16, 1247-1254.

Miller, W. R., & Taylor, C. A. (1980).? Relative effectiveness of bibliotherapy, individual and group self-control training in the treatment of problem drinkers.? Addictive Behaviors, 5, 13-24.

Miller, W. R., Taylor, C. A., & West, J. C. (1980).? Focused versus broad spectrum behavior therapy for problem drinkers.? Journal of Consulting and Clinical Psychology, 48, 590-601.

Harris, K. B., & Miller, W. R. (1990).? Behavioral self-control training for problem drinkers: Components of efficacy.? Psychology of Addictive Behaviors, 4, 82-90.

Long-term follow-up showed good maintenance of gains, with the surprise that more people ultimately quit drinking than maintained moderation:

Miller, W. R., Leckman, A. L., Delaney, H. D., & Tinkcom, M. (1992).? Long-term follow-up of behavioral self-control training. ?Journal of Studies on Alcohol, 53, 249-261.

I had guessed that this would happen because people tried moderation and failed, but in fact the common scenario was that ultimate abstainers did manage to drink moderately but reached one or both of two realizations:

"This is hard! I feel like I'm walking a tightrope" or


"

What

'

s the point in drinking so little?

"

As might be expected, severity of dependence predicted abstinence (higher) versus moderation outcomes (lower dependence scores), and those are the data we used in Controlling Your Drinking to help people decide which goal might be best for them.

The other observation was that when abstainers did drink (after moderation training) they rarely relapsed; more often they had a few drinks for a day or two and then went back to abstinence.

Bill Miller


Softcover, 290 pages, 2nd Edition (July 25, 2013), US
ISBN-13: 978-1462507597


---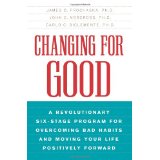 CHANGING FOR GOOD:
by Prochaska, Norcross, and DiClemente
The authors describe the stages of change and what must be done at each stage before moving on to the next.
The stages are:
1. Precontemplation (resisting change and consciousness raising)
2. Contemplation (emotional arousal and self-reevaluation)
3. Preparation (continuing self-reevaluation and commitment)
4. Action (countering, environment control and reward)
5. Maintenance (strategies, self efficacy)
6. Recycling (learning from "relapse")
7. Termination (exiting the cycle of change)
Order this book here!
---

SOBER FOR GOOD: New Solutions For Drinking Problems-Advice From Those Who Have Succeeded
by Anne M. Fletcher
For this best-selling book, author Anne Fletcher went straight to the experts: hundreds of men and women who have resolved a drinking problem. She also consulted the scientific literature and leading authorities in the field to come up with this unbiased guide for problem drinkers, one that shatters long-held assumptions about alcohol recovery--such as, "A.A. is the only way to get sober" and "one drink inevitably leads back to the bottle." Weaving together success stories of ordinary people, Fletcher reveals that there are many ways to overcome drinking problems--in addition to abstinence, this book is friendly to the concepts of moderate drinking and harm r eduction. The book is filled with resources for problem drinkers and their families. Order this book here!

---

Recovery Options: The Complete Guide
by Joseph Volpicelli, Maia Szalavitz
Physician and psychologist Volpicelli has considerable experience in treating addicts. He met Szalavitz, an addict, on the Internet. Their shared goal is to give potential recovery patients sufficient information about various kinds of problems and treatments to make informed choices that answer their specific, personal needs. Alcoholism, for example, has many causes and several treatments, each with its own philosophy; Volpicelli reports his success with naltrexone. He and Szalavitz stress the importance of the stages of change in the treatment process. The patient must realize that reaching each stage is a positive step and that progress is to be measured by where one is in relation to where one has been, not by how much further there is to go. Volpicelli emphasizes the importance of relapse prevention and having the right approach to a relapse. "Making one mistake doesn't make you a mistake," he proclaims. This is realistic, open-minded, and humane guidance for dealing with addiction.
William Beatty
Copyright: American Library Association. All rights reserved

Order this book here!
---
SAYING WHEN: How to Quit Drinking or Cut Down
by Martha Sanchez-Craig, Ph.D.
(1994) Addiction Research Foundation
Dr. Sanchez-Craig, former senior scientist at the Addiction Research Foundation in Toronto, Canada, has helped people overcome drinking problems for over 20 years. Her methods, which have been tested and have proven effective for hundreds of people, are now available to you in this step-by-step workbook. Highly recommended.
To order call 1-800-661-1111
---
THE MIRACLE METHOD: A Radically New Approach to Problem Drinking
by Scott D. Miller, Ph.D., and Insoo Kim Berg, MSSW
(1995) W. W. Norton & Company
This book focuses on solutions, not problems. The authors help you to imagine a future when drinking is not a problem, using their "miracle picture" technique, and to specify small, concrete, obtainable goals that will make that future a reality. While staying away from providing specific drink limits and amounts, this book helps you to recognize and to increase the times you are "doing things right." Filled with many question and answer exercises. "This book can help you quit focusing on the problem, and get into action." -Audrey Kishline, founder MM.
---
THE TRUTH ABOUT ADDICTION AND RECOVERY
by Stanton Peele, Ph.D., Archie Brodsky, and Mary Arnold
(1991) Simon & Schuster
The authors challenge traditional models of addiction, and offer alternative solutions. Their Life Process Program for change, which emphasizes natural recovery and living by a set of values that run counter to addiction, will help you aim for and accomplish worthwhile life goals.
---
ADDICTION, CHANGE & CHOICE: The New View of Alcoholism
by Vince Fox, M.Ed.
(1993) See Sharp Press
An insightful, scholarly, and open-minded look at the forces of change occurring in the field of addictions. Vince Fox provides an insider's look at many of the new "independents," self-help groups that have evolved since AA (MM was in its infancy, and only briefly mentioned). If you are searching for the "right" support group that best fits your beliefs and recovery goals, this is the book to read!
---
WHEN AA DOESN'T WORK FOR YOU
by Albert Ellis and Velton
From the founder of Rational Emotive Behavior Therapy, an approach based on challenging your thoughts and beliefs. Insightful for those who choose abstinence or moderation.

---
THE CODEPENDENCY CONSPIRACY
by Katz and Liu
Explores and exposes the entire "Recovery Movement" (meaning those programs and institutions that use the 12-step/disease/abstinence model). The authors outline steps for change based on personal responsibility.
---
HOW TO STUBBORNLY REFUSE TO MAKE YOURSELF MISERABLE ABOUT ANYTHING--YES ANYTHING!
by Albert Ellis, Ph.D.
For people who have a handle on moderation or abstinence but are still not enjoying life. Includes such chapters as, "You Control Your Emotional Destiny", "Forget Your 'Godawful' Past", "You Can Refuse To Upset Yourself About Upsetting Yourself", and much more. A free catalog of resourses--including excellent audio tapes like, "How To Be Happy Though Human" and "Overcoming Influences of the Past" for working on just about any conceivable problem cna be requested at orders@rebt.org or by calling 1-800-323-4738
---
MANY ROADS, ONE JOURNEY
by Charlotte Kasl
Especially for women breaking away from AA or NA. Shows women who have had bad experiences in 12-step groups how it is built into those recovery groups and is a common experience for those who become entangled in them. Highly empowering. The more information you have, the better you'll be able to choose whether moderation or abstinence is best for you.
---

FOR PROFESSIONALS:
Harm Reduction Psychotherapy: A New Treatment for Drug and Alcohol Problems
by Andrew Tatarsky PhD
Harm Reduction Psychotherapy: This ground-breaking volume provides readers with both an overview of harm reduction therapy and a series of ten case studies, treated by different therapists, that vividly illustrate this treatment approach with a wide variety of clients.

Harm Reduction Psychotherapy and Training Associates offers a "harm reduction" approach to substance use treatment. Research has found that it is easier for some people to begin counseling when specific goals are not required to enter treatment. In harm reduction treatment, any treatment goal is valid that helps reduce harm to an individual. Therefore, total abstinence is one goal among several alternatives. In other words, abstinence falls under the umbrella of harm reduction. This results in an approach that tailors the treatment to fit the individual, rather than trying to make the individual fit into a treatment model. Now in it's Second Printing! Order this book here!
(2002) Jason Aronson, Inc.
Read more about 'Harm Reduction Psychotherapy' here
or at Dr. Tatarsky's website: http://www.andrewtatarsky.com
---
Practicing Harm Reduction Psychotherapy: An Alternative Approach to Addictions
by Patt Denning New York : Guilford Press, 2000.
---
HANDBOOK OF ALCOHOLISM TREATMENT APPROACHES: Effective Alternatives
edited by Reid K. Hester, Ph.D., and William R. Miller, Ph.D.
(1995) Allyn and Bacon, 3rd edition
An indispensable resource for anyone working in the area of alcoholism treatment and research, this comprehensive guide is designed to assist clinicians in matching clients with treatments and provides extensive listings of both clinical and research references. Widely used in treatment centers and for counselor training since the first edition, this handbook provides the most comprehensive review of treatment outcomes available anywhere, "mini-manuals" for a wide variety of treatments supported by research, and new approaches to screening and assessment.
---
PROBLEM DRINKERS: Guided Self-Change Treatment
by Mark B. Sobell, Ph.D., and Linda C. Sobell, Ph.D.
(1993) The Guilford Press
For professional therapists and counselors, this clinical guide offers a state-of-the-art brief motivational treatment approach for problem drinkers. Drs. Mark and Linda Sobell provide detailed instructions for the initial assessment and four treatment sessions of this integrated program. Illustrated with numerous case examples, this practical manual also features handouts that can be photocopied for clients.
---
MOTIVATIONAL STRATEGIES FOR PROMOTING SELF-CHANGE
Video (1995) Addiction Research Foundation, 38 minutes
This is a training video for health professionals new to the addictions field and for experienced therapists who want to provide a motivational approach to helping their clients who abuse alcohol. Using a dramatic reenactment, the video demonstrates key motivational interviewing techniques, including open-ended questions, reflective listening, and advice/feedback using questionnaires. Based on the clinical handbook described above.
To order call 1-800-661-1111
---
CONTROLLED DRINKING
by Nick Heather, Ph.D., and Ian Robertson, Ph.D.
(1983) Methuen, Revised edition.
One of the first scholarly reviews of the literature on controlled drinking treatments, including origins, methods, and outcome studies. Concluding with a discussion of theoretical and policy implications, the authors recommend that the disease view of alcoholism be finally abandoned.
---
OTHER BOOKS
(caution, sense of humor required):
---
A NATION OF VICTIMS: The Decay of the American Character
by Charles J. Sykes
(1992) St. Martin's Press "Mr. Sykes looks at today's America and finds a nation of people more concerned with justifying their behavior than with finding real solutions to the problems." -Peter Jennings, ABC Radio. "Mr. Sykes sees the root of the problem...in this witty, wise book." -The Wall Street Journal.
---
I'M DYSFUNCTIONAL, YOU'RE DYSFUNCTIONAL
by Wendy Kaminer
(1992) Vintage Books Anyone who's ever wondered why talking about addiction has become so fashionable, shuddered on hearing an "adult child" compare his upbringing with the Holocaust, or felt that admitting one's powerlessness is a frightening prospect for a participatory democracy will be delighted by this bracingly outspoken and intelligent work of social criticism.

---