Please donate and help us to keep helping others! We are supported by our members and we appreciate every contribution! Moderation Management™ is a 501(c)(3) Non-Profit.
Donations to Moderation Management™ may be tax deductible. (Please consult with your tax professional about exemption eligibility for your gift.)
---
Donate with venmo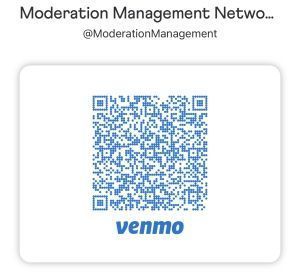 Mail-in donations
Moderation Management™ also accepts donations to our mailing address:
Moderation Management
2885 Sanford Ave SW #36026
Grandville, MI 49418-1342
or write to us:
Amazon Smile program
Moderation Management™ is pleased and grateful to join in the Amazon Smile non-profit support program. The link below features the option to register Moderation Management™ as your Amazon Smile charity:
This setting will be remembered by your Amazon login. Once registered, shopping at "smile.amazon.com" (Shop with a Smile!) for an item flagged as "Eligible for Amazon Smile donation" will provide Moderation Management™ with a small but important contribution.
Your Amazon Prime membership will be honored, with the same shipping policies. Prices are the same. Product choices are the same. (Although not all products are "Smile Eligible.") Amazon makes the donation, and assumes all administrative costs.
Bonfire

We have a Bonfire store with t-shirts and sweatshirts – support us by buying some of our merch!