Member Story: The Power of the Power of One!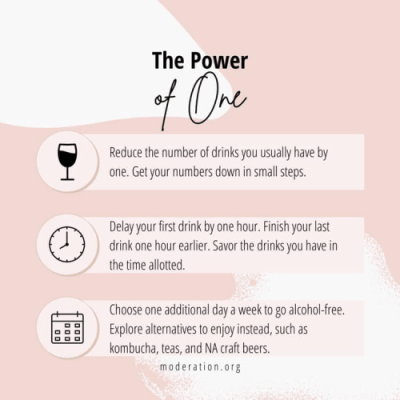 When I joined MM (Moderation Management) I was looking to find a way to connect and heal my drinking habits with Iike-minded people. I was about to turn 30 and after years of "social binge drinking" I heard a whisper inside of me that wanted a change (this whisper went on for about 4 years before I found MM). I wasn't a drink everyday person, I didn't rely on it physically, I didn't drink when I was super upset. I just drank out with friends on the weekend, or at a happy hour. Usually 3 times a week. I worked out a lot, taught yoga, functioned very well in New York City. Deep down I knew something wasn't right.
When I found MM I found a community of people like me! We all have different struggles, triggers, and come from different background but we all want to approach drinking in a mindful way. I loved the tools I was presented with when I first joined.
The "Power of One tool" in particular helped me. Having a drink 1 hour later than everyone, having 1 less drink at the end of the night, having 1 glass of water between drinks. The rule to eat before you drink helped me as well as someone who struggled with disordered eating. I quickly found out that alcohol use and disordered eating were very intertwined.
The Facebook group became a daily refuge. I got book recommendations, podcast recommendations and started to dive in and really learn about drinking habits and alcohol use.  I was able to connect with some people and now we text and help each other stay accountable and share our worries with each other. I participated in the 30 day challenge, and have continued to do long periods of time without alcohol since then. I haven't joined a zoom meeting yet but I want to this month! My advice for someone would be: taking the first vulnerable step and joining the group is the hardest part from there you'll see how many supportive people are on your side and how many people are in this community of grey area drinking. My number of drinks, drinking days, and negative drinking nights have decreased immensely in the last 3 years. Currently I am over 100 days Alcohol free and enjoying my time reworking my social habits to not need booze! Thank you MM!
Elise, MM Member
https://moderation.org/wp-content/uploads/2019/09/MM-logo-V6-small-1.png
0
0
Mary Reid
https://moderation.org/wp-content/uploads/2019/09/MM-logo-V6-small-1.png
Mary Reid
2023-01-16 09:38:01
2023-02-05 15:57:21
Member Story: The Power of the Power of One!